I'm a fan of niche things. Technically, I love unique stuff. It makes me feel happy and satisfies me. Just like embedding power into my spirit. I thought skull jewelry is a minority thing. However, I found that more and more people choose to wear skull jewelry. So, what is the reason for such popularity? It is the thing I prepared to search for. Now let's begin.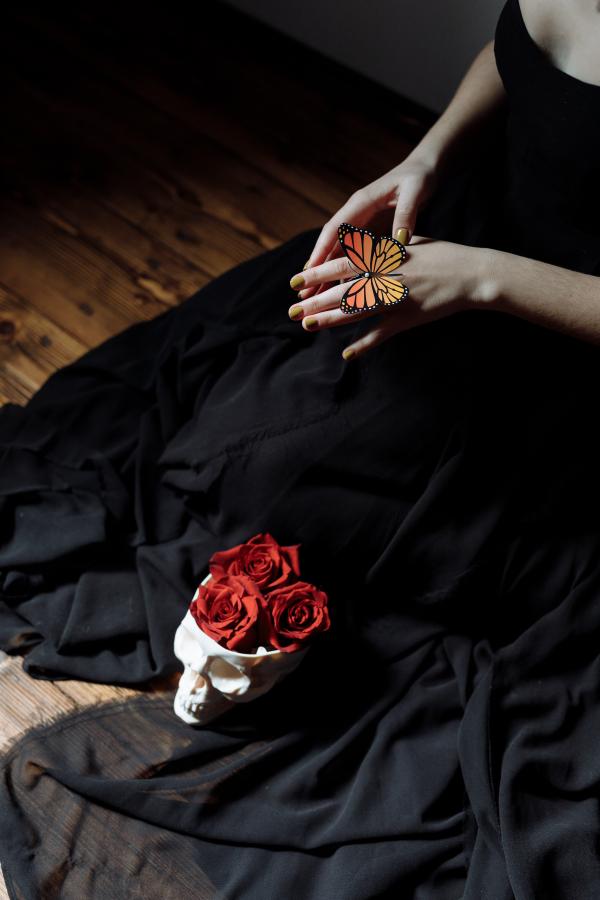 The Brief Introduction of Skull Jewelry 
Skull jewelry is not a new thing in the world. Long long ago, maybe in the Elisabeth period, skull jewelry represents braveness. In the Victorian era, it added the meaning of toughness. And you must notice the skull pattern on Jolly roger. Thus,  you may understand why the skull is always related to brave, toughness, and power. In a way, pirates are a group of rebellion. They are brave and free.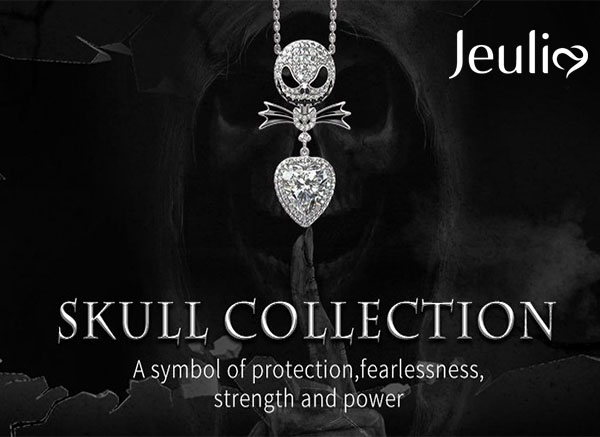 Up to now, people regard the skull as a celebration of life. When we look at the skull, we will think of death, and it reminds us of the significance of 'Carpe Diem. Therefore, we are supposed to seize the day, enjoy our best moments. Everyone will die in the end, but at least we can take full advantage of our life when we live. I love this notion. And that is why I love skull jewelry. It let me who I am. 
Some Popular Jewelry Pieces 
Let's enjoy some skull jewelry, shall we? I would like to pick up three items to share with you. 
Everyone who has seen this painting is deeply attracted by it. We upgraded it to make the whole ring look more shiny and charming. For those who ideally master the bridge between bad girl glamour and luxury jewelry, this ring offers this chic piece that shows your personality.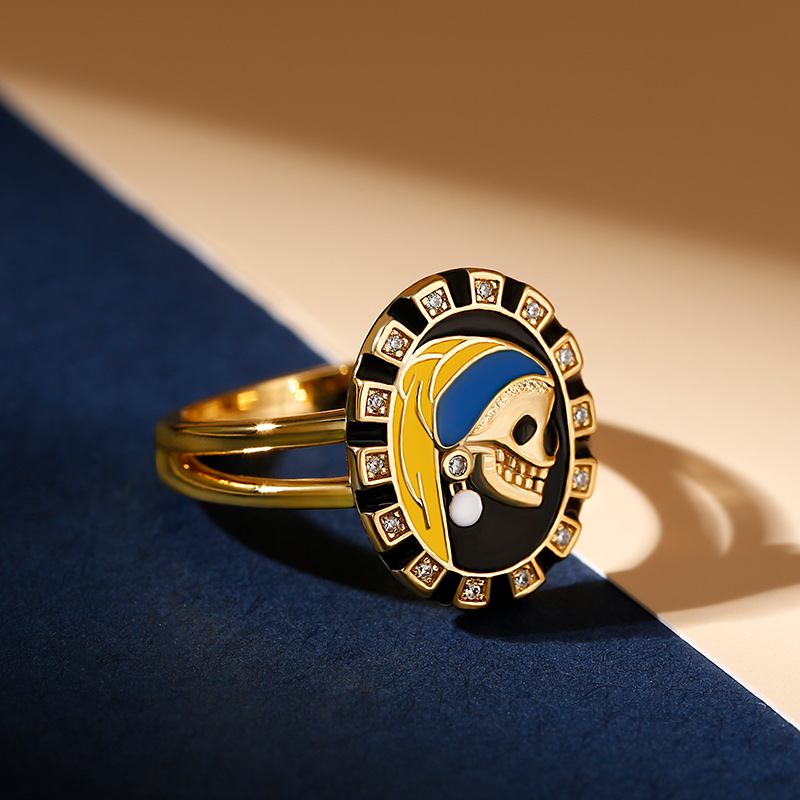 This cute and stunning necklace is certain to be cherished. The design is inspired by the "Pumpkin King" -a character and the main protagonist of a famous Halloween film. Glistening with detail, a mini skull holds three sparkling round cut stones. Chic and adorable, this skull makes a great gift – surprise her with this necklace any time of the year.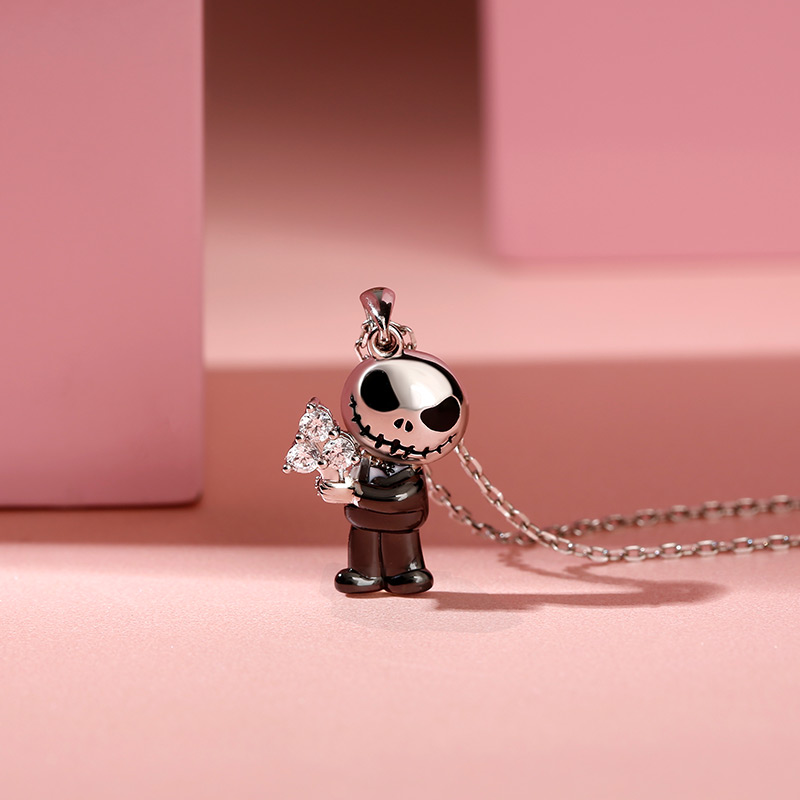 "We love the night. It's the only time I feel really alive." A striking set of skull earrings crafted in rose gold-tone sterling silver, set with little glittering round stones to add more sparkle. So cool, so unique. A unique statement piece that is great for everyday casual wear. It is also suitable to wear for Halloween to highlight your personality.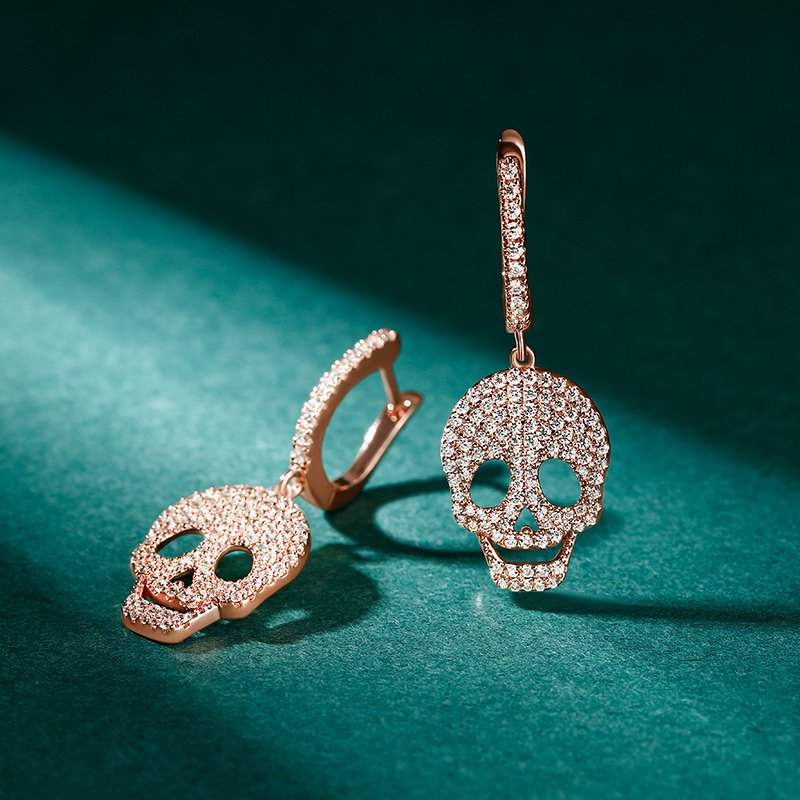 In The End
I need to clear that. We should never forget the original effects of jewelry. People wearing jewelry come out for different reasons.  Some of them have the most simple reason. Just cause they are fond of the jewelry piece. In addition, people may choose a piece of jewelry to showcase their personality and more. You could wear a piece of skull jewelry if you want to. There is no need to find a reason. Just remember it.